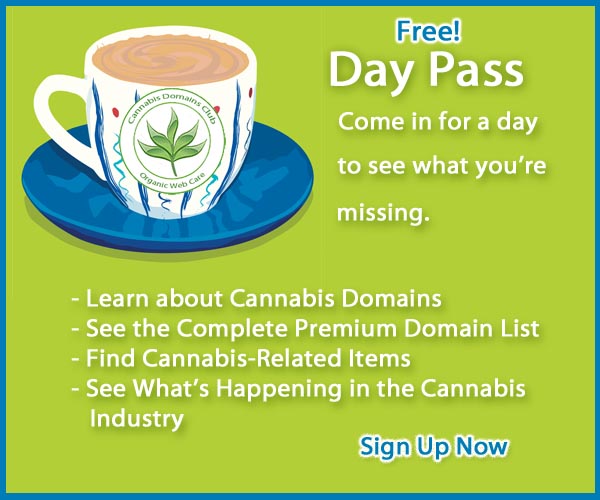 The Cannabis Domains Club!
We invite you to become a member of this new exciting club with benefits. If you're new, we encourage you to sign up for a FREE 'Day Pass' so that you can try-before-you-buy. These will eventually be your 3 Membership Options:
Member
Save 5% (up to $250) on Premium Domains and Much More! (Annual $4.99)

Advertiser Member
Same as a Member, plus get a Listing in the Cannabis Safari! (Annual $14.99 - 1st Yr Special)

Reciprocal Advert.
Get a FREE Listing! Add our Banner to Your Site and Offer Members a Discount. Learn More

Please fill out the following form. Once we verify your application you'll be added to our system and your Day Pass will be sent to you so you may login for your first visit.
Your 'Day Pass' will change to 'Member' (or 'Advertising Member') status once payment is made (or Reciprocal Linkage is established). This will be done within your new account area of the site.
Legal Cannabis-Related Product Vendors: Please add the 'Name of Your Company' & 'Website URL' and we'll check out your site to see if it's a good fit with the 'Cannabis Safari'. This way you'll be admitted to see your advertising opportunities.
Thanks for your interest in our club, we look forward to seeing you there soon!